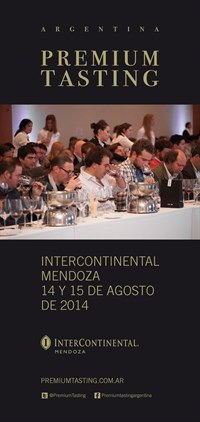 As one of the hottest tasting tickets of the year in Mendoza, the Premium Tasting might only be four years old but it is a sell out each year. Why? Because in one room you get to blind taste around 40 of the country's most expensive and prized wines.
"The Premium Tasting was born in 2011 with the objective of enjoying some of the best wines on the continent in the hands of their makers in an exclusive blind tasting that winemakers, sommeliers, consumers, specialized press and the general public," said Organiser and Director Nicolas Aleman.
The tasting is two days long (August 14 & 15th) with the first day dedicated to talks and clinics given by experts from Argentina, Chile and Uruguay. Talks include a clinic on sparkling wine by Argentine sparkling wine genius Pedro Rosell, a talk on Cabernet Franc and a reflection on 30 years in Argentine wine by Roberto de la Motta. The second day is the big tasting of the highest scoring wines in Argentina with 350 people led by a panel of experts.
"What's unique about this tasting is that we offer the opportunity to try over 30 of the country's very best wines in one tasting," explains Nicolas. "It is guided by professional wine experts and representatives of each winery and this really is a chance to learn about and taste the very best of Argentine wine."
To get your tickets visit http://www.premiumtasting.com.ar/

Amanda Barnes is a British journalist living in Mendoza and filling her time with as many high and low scoring wines as her liver can manage. You can see the good, the bad and the ugly at her blog www.amandabarnes.co.uk