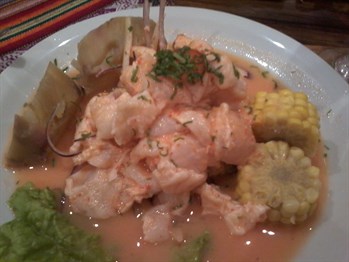 Many get excited about new Peruvian food options in Mendoza – it is a chance to forego the steak for an evening or so and fill up on fish - a rarity in Argentina - and enjoy a bit of spice as well.
For quite some time there have been a few very traditional and rustic Peruvian places in town, but earlier this year a new Peruvian option opened its doors, delivering style alongside spice!
Sabores del Peru is a pretty, quaint restaurant at the end of popular bar street in Mendoza city called Aristides Villanueva. Here you can try all the Peruvian classics but also indulge in good wines and a very pretty décor.
Walls are adorned in art and artifacts from the family's Peruvian heritage and tables are laid with a vibrant traditional Peruvian cloak. Before you settled down to order a basket of tortitas (small bread disks) and crispy corn are brought out with two sauces – one mild, and another spicy.
The menu incorporates some classics like Papas a la Huancaina and Aji de Gallina as well as pretty little starters of mashed potatoe stuffed with spicy chicken.
While all their food is good, the star dish is their Ceviche de Reinata: a beautiful ceviche with Chile's tender reinata fish marinaded in citrus and onion until a tasty leche de tigre (or tiger's milk) appears, binding the dish with the same great flavor. Perfect with a glass of Torrontes!
 If you are looking for a break from carne, this stylish family-run restaurant is a tasty oasis in Mendoza.
 Sabores del Peru, Arístides Villanueva 721.

Amanda Barnes is a British journalist living in Mendoza and dedicating her time to digging out the best wines and spice available in Argentina. Read her blog at www.amandabarnes.co.uk