The Villas at The Vines Resort & Spa
Throughout The Vines' 1,500 acre property, we are working with huge open spaces and dramatic landscapes, and our challenge is to create a cozy, intimate and natural refuge within that expansive beauty. For our Villas, we use a detail-oriented approach that incorporates many small touches, addressed in the design of our living and communal spaces.
We worked with top architects, Bórmida & Yanzón, on the resort and villas. B&Y have won accolades and awards for designing some of the best wineries in Argentina, including Salentein, Septima, DiamAndes and Vistalba. They designed our winery as well. Their architecture in inspired by communities and regional landscapes, accounting for contemporary challenges while honoring local values and traditions.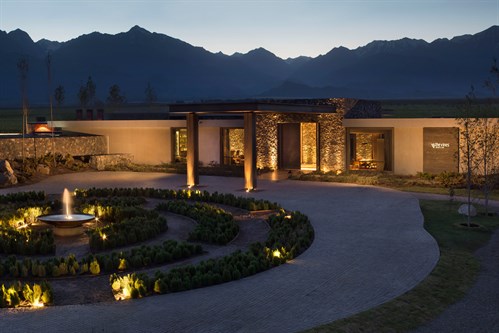 One aspect of these local traditions are the cozy and beautiful locally sourced rugs, blankets, and bed accessories. Elementos Argentinos provided our intricate rugs, while Indias Argentinas custom created our blankets and bedroom accessories to give a true authentically Argentine feeling, and to be sure each part of the resort blends with and enhances nature. Rooted in Argentinean tradition, these weaves add the perfect sense of place to our Villas.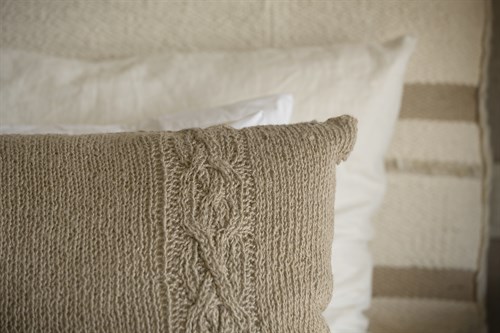 In creating a lush, luxurious destination in the Mendocinian desert, we also wanted to be sure to respect and celebrate our surroundings, bringing the outdoors inside as much as possible. We invite the sun in by filtering light, creating shade and using shadow as a tangible material.
Water is an essential element in this vast desert, and we want to enhance its power by creating lush, intimate green spaces throughout the resort. We also pay tribute to this rich land by using naturally sourced materials. You'll see these unique characteristics reflected in the textures, color palette, and design decisions throughout your villa and the rest of the project.
While our Villas are emphasizing relaxation and luxury, rest assured that they also have state-of-the-art technology, including AppleTV for accessing your own movie and music library, and Sonos for listening to music throughout your Villa.
We want you to feel as if you are in your Argentine home away from home. 
This is why we stock the minibar with local artisanal beer and the wine refrigerator with Recuerdo Wines for your enjoyment. For the same reason, we provide fresh made snacks and assorted pastries from our kitchen daily.
Types of Villas 
Two Bedroom Villa
Our two bedroom Villa has more than 2700 square feet of indoor and outdoor and outdoor living space. This includes a deck with a gas fireplace (in addition to indoor fireplace), plush lounge chairs, and an outdoor tub for getting a soak and a good look at the Andes at the same time. Throughout the Villa, there is floor to ceiling glass for the best possible view of the beautiful Andes mountains, and the spectacular sunrises and sunsets.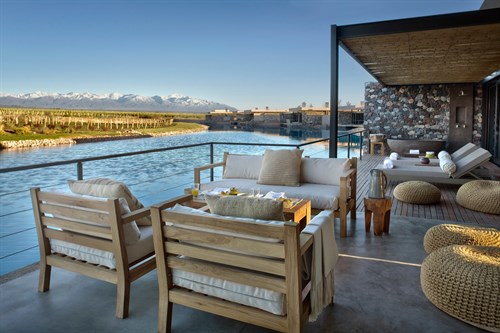 One Bedroom Deluxe Villa
Our one bedroom deluxe villa offers more than 1900 square feet (180 square meters) of indoor and outdoor living space. These units also feature a spacious private deck with outdoor soaking tub, shower or plunge pool that doubles as a hot tub for year-round relaxation (select units only). All the amenities aren't outside, however. The bathrooms are spa-inspired with luxury bath amenities and powerful showers, and there is a romantic fireplace in the living room.
In addition, certain second row units offer a rooftop terrace for private sunbathing, stargazing and taking in sweeping views of the Andes.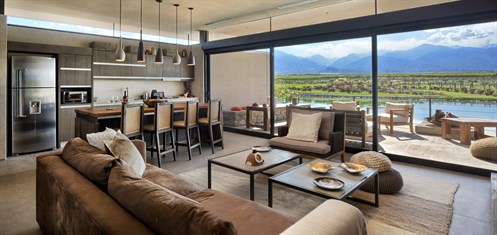 One Bedroom Villa
On the second row, One Bedroom Villas include a large deck with plush lounge chairs, sounds of our trickling stream, and sweeping views of the Andes rising above 1,500 acres of lush vineyards. These units include kitchenettes and a cozy living room, in addition to the luxurious bedroom and spa-inspired bathroom.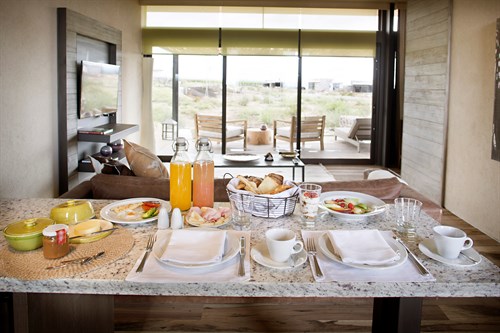 We hope that we are able to show you one of our villas in person soon, and perhaps toast with a glass of Malbec while watching the sun go down. Reach out to us at info@vinesresortandspa.com to inquire about a Villa reservation or bryan@vinesofmendoza.com to inquire about Villa purchase opportunities.