Kicking off the 2015 Winemaker's Night series, The Vines of Mendoza welcomed Casarena winery and one of the youngest, most promising female winemakers in Argentina  - Paula Gonzalez.

Casarena winery was originally owned by a local family who established it in 1947. However it changed hands to a Chilean company before becoming the property of the current owners from the US. With over 200 hectares, the production is focused in Lujan de Cuyo between Agrelo and Pedriel.
Paula came to the Tasting Room last Wednesday to introduce a selection of their wines and talk about the potential of different variaties in Argentina and life as a young woman in the wine industry.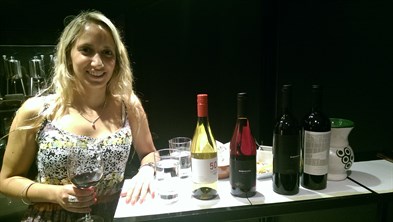 The interview...

You are in the middle of harvest, what excited you most about harvest?

I don't mind starting at 7am and finishing 5am the next day, because I am waiting for this time of the year all year long. It is what impassions me - ever since I young.

What made you want to get into winemaking at a young age?

My father has vineyards and so does my grandfather. Since I was young I went to wineries and loved chemistry ... that's why I got into wine.

You have been recognized as one of the most promising, young [aged 24] female winemakers in Argentina. Do you see many promising female winemakers in your generation?

Yes! We are growing a lot as women. Before it was a macho culture, but little by little we are making our place, strongly and securely. 

What do you think is the most promising variety in Argentina at the moment?

Malbec is one of the most important varieties for us, but I think Cabernet Franc is one that is going to explode. And that's one of the ones I like the most.

What we tasted...
505 Chardonnay 2014
With a fruity nose reminiscent of ripe banana and red apple, this is a fresh Chardonnay that shows a fruit forward and easy to drink style of young Chardonnay with no oak ageing. This is their entry level wine, and offers great value at 70 pesos.

Ramanegra Pinot Noir 2011
A pale cherry color and a smooth cherry nose, this is a light and crisp Pinot with a touch of earthy undertones from 12 months in 3rd or 4th use barrel. You'd never guess it was a 2011 (still maintaining a crunchy acidity), and the light colour might lead you to think it was an Argentine rose! Fermented in large bins with a slightly earlier harvest than usual, the aim of the game with this Pinot is to keep it fresh - mission achieved. Drink it chilled and pair it with sushi says Paula.

Ramanegra Reserva Merlot 2011
It is unusual to find 100% Merlot variety in Argentina, but Paula believes that it is making a come back in the market. This smaller production Merlot has a fruit forward nose, some sweeter oak characteristics and a smooth finish and a little kick of acidity that sat very nicely with a lump of creamy cheese.

Jamila's Vineyard, Malbec 2011
Casarena's top line is a series of single vineyard wines, and tonight we were tasting Jamila's Vineyard Malbec. The vineyards are only ever 5-10kms from the other, but what Paula hopes this series shows is the impact of the different soil. This wine, from Pedriel, that we tried has deeper roots and Paula described it as a more mineral wine. Intensely coloured, and with a tighter nose, this is a wine that happily benefits from some decanting time - rich, concentrated and very Malbec.





Amanda Barnes is a British wine writer in Mendoza who is enjoying her 5th harvest in the country, where she most gets a buzz out of the activity in the vineyard, the waft of sweet juice in the winery and the black hands and cheeky grins that stay put for months on everyone that works in the industry. www.amandabarnes.co.uk