If you are heading to Chile by road you will not only find a beautiful mountain pass that goes by some of the most colorful rocks and sparkling lakes, but you will also conveniently pass a string of some of Mendoza's top wineries. Whether you are a passenger in need some Malbec before braving the customs queue to Chile or are just looking for a good winery day out from Mendoza, Ruta 7 has a concentrated collection of wineries within a stone's throw of each other.
Here is a round up of the top five wineries on the Ruta: 
Cruzat
Start the day with some great bubbly at Bodega Cruzat where you can take a tour of the backstage, where the bubbly magic happens in tank and bottle. Finish off with a tasting in the art-covered tasting room that overlooks the vineyards with their range of sparkling wines that includes a sparkling rose, a brut nature and one of the most sophisticated demi secs on the market.
Costa Flores, www.bodegacruzat.com
Ruca Malen
This winery has prized wines but also a prized restaurant that was selected as the best international winery restaurant last year by Great Wine Capitals. Serving an innovative menu of different courses around a theme. Chef Lucas Bustos plays with texture, color and taste to pair with Ruca's wines for an indulgent lunch blow out.
Ruta 7 Km. 1059, www.bodegarucamalen.com
 Bressia
Just tucked behind the Ruta is this maestro of boutique wines, Walter Bressia. His family winery is small but with a big heart and either he or one of his children will show you the prized barrels and small production line before tasting the family's production. If you are into your red blends be sure to ask for a taste of the fabulous Bressia Conjuro or the tippity top - Ultima Hoja.
Cochabamba 7725, www.bressiabodega.com
Septima
Septima is probably the biggest kid on the block, with its big and beautiful stone walled winery that has a horizontal production line designed by renowned Mendoza architects Bormida & Yanzon. The design is quite mind-blowing, but the best view of all is from their huge rooftop patio which gives a beautiful panoramic view of the Andes foothills, the road to Chile and all the surrounding vineyards. Stay for their lunch and finish with a glass of their lovely bubbly on their lounge chairs in the sun. 
Ruta 7, km 1059, www.bodegaseptima.com
Caelum
Going from the biggest to the smallest. Caelum is a small family adventure, with young brother and sister Constanza and Hernan running the ship with Italian winemaker Guiseppe Franceschini running the barrel room. Tours are private and intimate and you can finish off with a tasting of their growing portfolio of wines, as well as their garden grown pistachios.
Ruta 7, km 1061, www.bodegacaelum.com.ar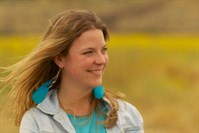 Amanda Barnes is a British wine writer living in Mendoza and road-tripping to wineries as often as her feet, available wheels and liver will allow her. You can read about more of her wine trips at www.amandabarnes.co.uk