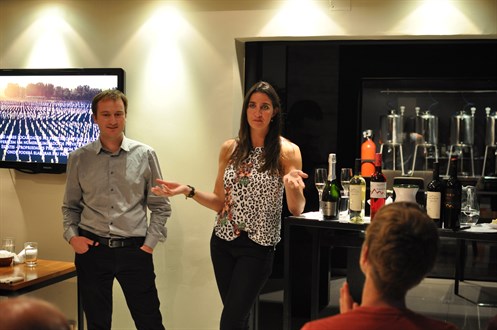 Kaiken was the winery of choice in mid-March at Winemaker's Night with winemaker Rogelio Rabino presenting five of their wines. Introducing the winery, the Kaiken team explained that this winery arrived 12 years ago in Mendoza. Crossing the Andes from Chile, Aurelio Montes is a renowned Chilean winemaker who owns one of the most successful wineries in Chile – Montes – and he wanted to replicate that success in Argentina with premium wines made in Mendoza.
 The interview...
During the talk you said that Montes came here to make the best of Argentina's terroir. Compared to Chile's terroir or other terroirs around the world, what do you think is special about Argentina's terroir?
I think that the special thing is the alluvional soil and the dryness without rain, and then last of all the altitude. Altitude gives us a good difference between day and night temperatures. The most important though are the people.
You say that Argentineans love life, even with its ups and downs. What have been the ups and downs in Kaiken's life story so far?
The good is that I think we combine the history of Chile and the powerful life of Argentina, and the bad I don't know… but we have some political problems [in Argentina]!
Kaiken means wild geese. Do you ever feel like a goose? Or a different animal?
I don't know what the Kaiken bird is like, but I am more quiet and talk only a little so I think I am most like the bird called 'tero'. Because it keeps its passion for the terroir.
 Wines we tried...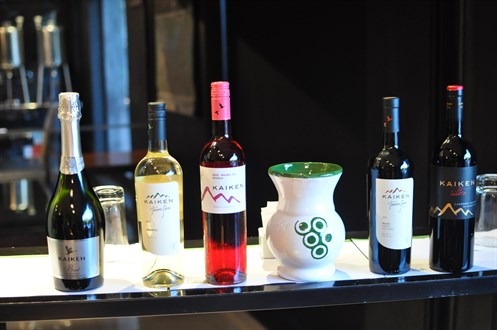 Kaiken Brut
Kicking off with a bubbly, this is the first sparkling wine from Kaiken and is made in the traditional champagne method with a blend of Chardonnay and Pinot Noir. With a very fine bubble stream and a rich mouth from 12 months on the lees, this delicious sparkling wine won't go unnoticed and can stand up well next to food, and boisterous company. The grapes come from Tupungato at higher altitude for a higher acidity which is present in this crisp sparkling.
Kaiken Torrontes
Made in the north of Argentina in Salta, this is a classic Torrontes with heady floral aromas but has a dry and slightly steely mouth. It went wonderfully with a bit of creamy goat's cheese, and Kaiken's team told us it went very well by the poolside too…
Malbec Rose
A very pretty pink with nose grabbing sweet red fruit aromas, this is quite explosive in the nose! It was refreshing to hear Rogelio to say confidently as a man that he loves to drink rose with his mates before a BBQ!
Terorir Selection, Malbec – Bonarda – Petit Verdot
Fruit, bacon fat and a little bit of spice, this is an interesting blend coming from their terroir selection line. Approachable, fun but also a bit interesting. Rogelio explained that each different variety has a purpose: Malbec being the main part, Bonarda being the fruity girl and Petit Verdot is the rugby player of the blend!
Ultra Cabernet Sauvignon
Ultra is the highest level wine in the winery, except for their new 'icon' wine Mai. Concetrated and quite spicy, this is a wine that needs to be poured alongside in a good slab of juicy steak.

Amanda Barnes is a British journalist living in Mendoza, and if she were to be a bird the one she would most like to be is a swan because they don't have to move much, no-one is allowed to bother them (in England, where they have special swan protection schemes and teams) and they have a license to scare little kids.