One of the hottest dates to mix rock n roll and wine is confirmed for Saturday May 3rd. The Monteviejo Wine Rock Tour is back, and planned to be better than ever.
Organized by winemaker Marcelo Pelleritti, rocker Rano and marketing specialist Pablo Molinengo, the event promises to have a stellar line up of Argentine rock outfits again along with plenty of red wine and interactive art. Starting at midday on Saturday May 3rd at Clos de Los Siete in Vista Flores, the line up so far includes Catupecu Machu, of 4° Espacio (Matias Camisani and Daniel Ferrón), The Cellars and Rano Sarbach Trio.
Lots of other wineries in Mendoza participate in this event with putting forward their wine for people to try, and it is one of the biggest events promoting wine tourism in the Uco Valley. To get your tickets and get updates on the event keep your eye on www.winerocktour.com, and the Facebook.com/WineRockTour Fan Page.
Acquire special tour offers for that weekend in Uco Valley by contacting info@winerocktour.com and by phone: 2622 154 03692.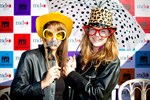 Amanda Barnes is a British journalist living in Mendoza and loves a bit of kick back blues with some funky old Syrah.