For the second Winemaker's Night in the 2014 season, it was the turn of a family project Otero Ramos. Roxana Otero came to present three of their wines to a full audience.
The story of the winery begins with her father. He came from Spain where his parents worked in wine, so when he came to Argentina wine was already part of his history and he wanted to continue that with his own family winery in Mendoza. They now producer 200,000 litres annually.

What we tasted:
30 Yards, Malbec, 2011: Their entry level wine, this is a young Malbec that has prominent fruit expression and a light finish making it a good wine to start off the night.
Gritos, Cabernet Sauvignon Clasico, 2011: A fruity Cab with an easy entrance and while it has some structure this again has a very gentle finish that makes it perfect for nibbling some cheese with.
Gritos, Pinot Noir Estate 2013. It is unusual to finish a tasting on Pinot, but this oak aged wine held its own with a strong fruit presence and a dry finish.
The interview: 
You said that your father had always dreamed of having his own winery, which he succeeded in doing. Do you have any wine related dreams for your future or for the winery?
The dream is to reach a greater market. We have always had a personal contact with people, so not to reach it in a massive way but with limited production and that has something special behind it. This is what we want and we aim to continue this project and this dream that has now come true, to continue in time.
In order to build the winery you said that your family put their life savings into the project as a life long investment of love and passion. Have you ever invested in an expensive bottle of wine?
I don't know! I always taste good wines when we travel and go to wine fairs, then the producers sometimes have the chance to share special wines and harvests. I like to taste different wines, but I don't believe that to be good a wine it has to have a high cost. I have discovered excellent wines from different parts of the world that have a special touch in making that wine – this for me is more interesting than an expensive wine.
You export your wine all over the world, is there any international cuisine that you think is perfect for pairing with Malbec?
French cuisine for me is very good for wines, but for Malbec I think that it is something very elegant, delicate and subtle and I like it with very gourmet dishes. Something very elegant is my perfect accompaniment.
Gritos (or screams) is the name of one of your wines, what really makes you scream?
The end of the harvest when you can see all the bunches in the winery. Up to then you don't know if it might suddenly rain a lot and you lose the harvest. When we have the complete harvest in the winery, the last day is a scream of joy and we can say 'good work' for this year. It's something very positive for us. We work the whole year for this month of harvest.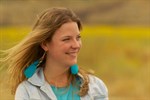 Amanda Barnes is a British journalist living in Mendoza. What makes her scream is people calling her gorda (fatty) as a term of endearment. Not PC.