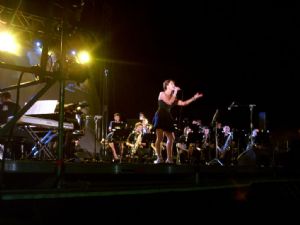 One of the loveliest events of the summer calendar, 'Jazz on the Lake' at Parque San Martin returns on February 17th. 
Free, live jazz concerts will be taking place on February 17th, 18th and 19th in the middle of the park's lake. 15 local bands will be gracing the outdoor stage which is set up on the island in the middle of the lake where they will be taking the audience through a whirlwind fusion of latin beats, hard bop, swing, bossa nova, big band, new orleans, traditional and modern jazz.
Starting each night at 8pm, five bands will play 50 minute sets and the evening should finish a little after midnight. With the perfect summer evening weather, this is an ideal date with someone you love, a wine you love and a picnic blanket!

Amanda Barnes is a British journalist living in Mendoza who enjoys nothing more than a wicket basket full of goodies and a few jazz notes bouncing across the water.
Photo copyright of LosAndes.com.ar