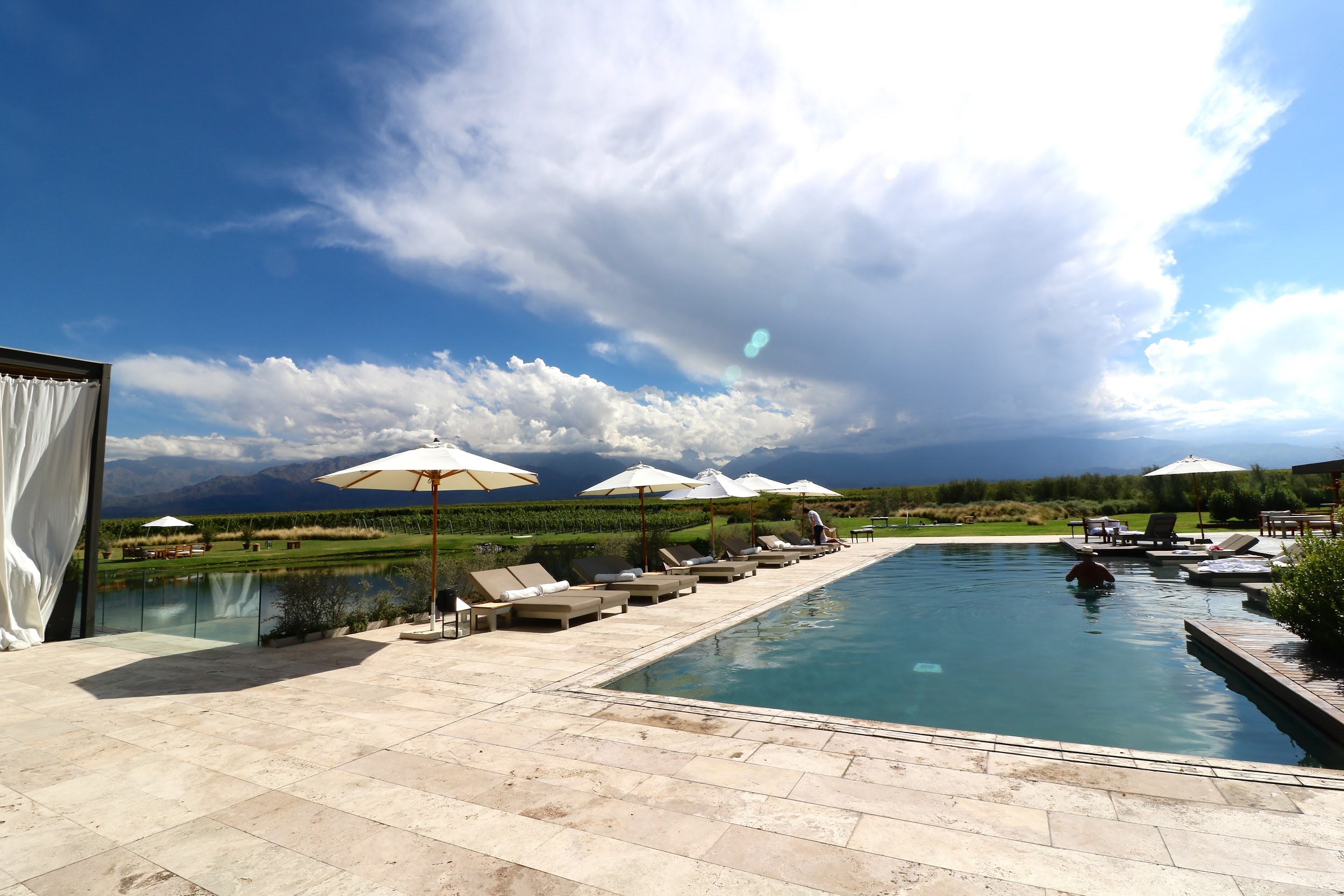 For a wine novice, the entire notion of this vineyard, and the day ahead, was slightly overwhelming. To be perfectly honest, my understanding of wines and winemaking to that point was rudimentary at best. Beyond appreciating a well-paired red with steak and a white with fish, or knowing that I don't typically prefer dry wines, I was a bit intimidated about exposing my naivete at the Wine Camp. But I was fascinated by the entire premise of The Vines itself, and how CEO Michael Evans came to create this impeccable oasis nestled in the Uco Valley of Mendoza, Argentina.
Before the activities got started, I was lucky enough to chat with Michael over breakfast—a beautiful spread of fruits, pastries, eggs and meats—overlooking that gorgeous view of the Andes. I had read his story, but was eager to find out for myself why he chose to leave behind a booming political career and the chaos of Washington D.C. for such a unique and adventurous entrepreneurial pursuit.
"I came to Argentina in 2004 for what I thought was going to be a three week vacation," he told me. "I went to Buenos Aires, and while I was there, decided to come to Mendoza because I had been a nut for wine. So I was like, I gotta check out the Napa of South America. I was here for three days, met Pablo, my business partner now, and saw the mountains, tasted the wine, met the people, and fell in love with the place."
Glancing over his shoulder at the view behind him, I completely understood what he meant.
"It was, and to some extent still is, a bit raw, a bit undeveloped, a new frontier for winemaking and I just knew something was going to happen. It was Napa not 10 or 20 years ago, but like, 50 years ago—there was such potential. So initially, I was just going to go back to the States but while I was here I thought, well maybe I'll buy a small piece of land, and let Pablo, whose family's been making wine for generations, take care of it. Then I would come back each year for the harvest and make my own wine. I always had a dream of making wine, owning a little vineyard."
The story, up to this point, made complete sense to me. Follow your passion, if you see an opportunity, take it. But the next part is what really intrigued me.
"That's where it started. Then when I talked to my friends back in the States, telling them, 'Hey, I'm thinking about buying 10 acres of land in Mendoza and planting grapes', they were like, 'Well if you're going to do it, I want to do it as well'. I mean it's ten acres, at the time it wasn't an enormous investment...and I'll have a vineyard in Argentina."
And so The Vines was born. It's not just a vineyard, but an opportunity for those with a love of wine, but also full-time jobs, to share in Michael's dream. At the time, Michael had just finished working on John Kerry's presidential campaign. As a D.C.-native, politics was the area he had spent most of his professional life. With that grueling campaign behind him, and no personal ties forcing him to stay stateside, the pieces fell into place almost too perfectly. Any reason to return to life in the U.S. diminished over weeks in Mendoza.
But, as with all budding businesses, it was hard work—and still is. The Vines has grown into so much more than a resort and vineyard that offers wine-lovers the ability to own a piece of the Uco Valley and blend their own wines while vacationing in luxury. The Vines has become a community, a well-rounded group of like-minded people that want more than a holiday. In one day, it became immediately apparent to me that this place is special not only because of the experiences it offers, but because the people who have joined share the spirit that Michael started over 10 years ago.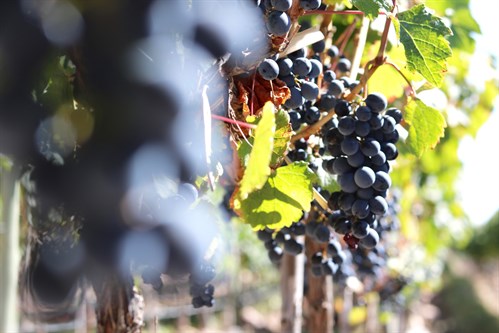 I could have spent another few hours picking Michael's brain, completely fascinated with his ideas, perspective, and insight on what's next for The Vines (expanding into Italy!), but I didn't want to miss out on the first part of Wine Camp, picking the grapes.
Despite arriving a few minutes after my group, due to my breakfast with Michael, I was still able to gather a few bunches of grapes to add to the crates they had already filled. The best part? A glass of pink bubbly as reward.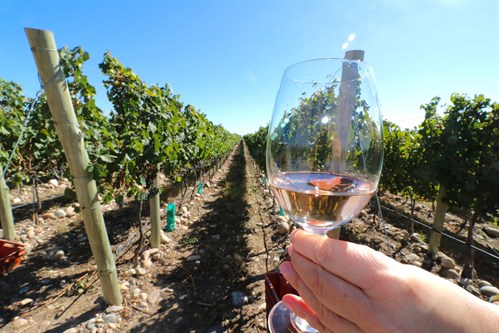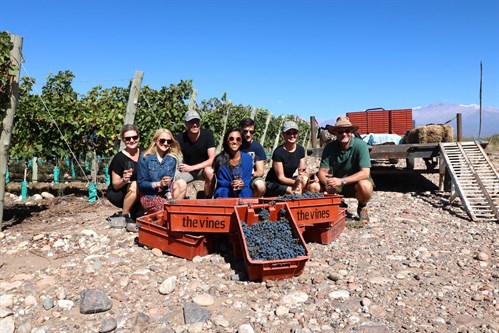 I wouldn't consider it highly laborious, even if you arrive on time: the idea is to stock enough to take for production at the fermentation station, about a twenty minute ride away on the back of a tow bed.
Once on-site, we were shown the varieties of grapes grown to produce malbec, syrah, cabernet sauvignon and cabernet blanc.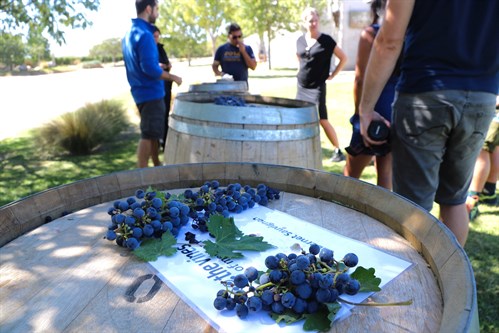 We learned that the tightness of the grape clusters affect the taste, and we tried the differences of each grape type for comparison.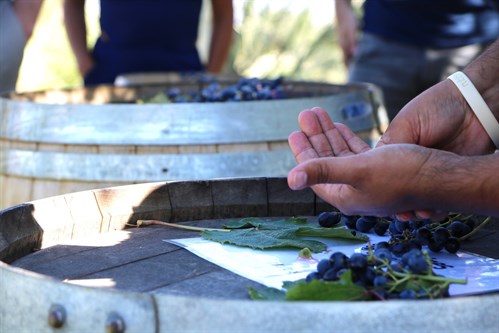 From there, we walked through a large room filled with wine tanks, currently fermenting various blends of wines.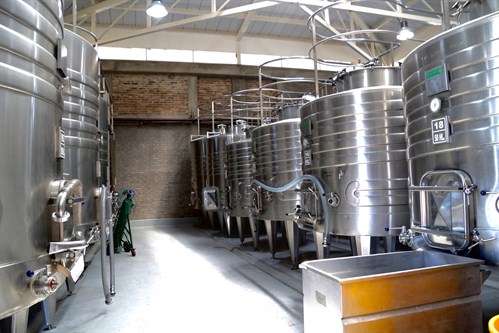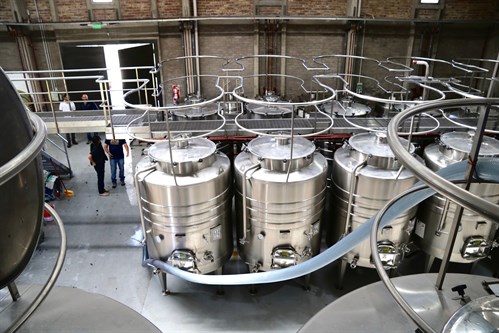 I was able to climb the ladder to the upper walkway, peaking down into the giant stainless-steel basins holding gallons upon gallons of grapes, on their way to becoming delicious wine.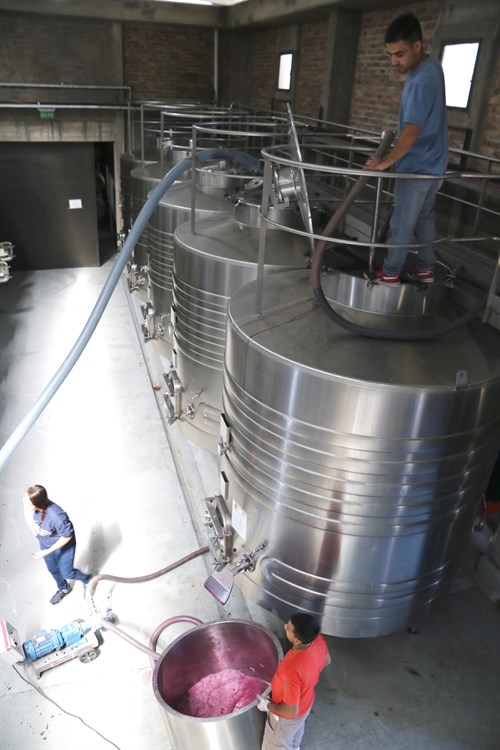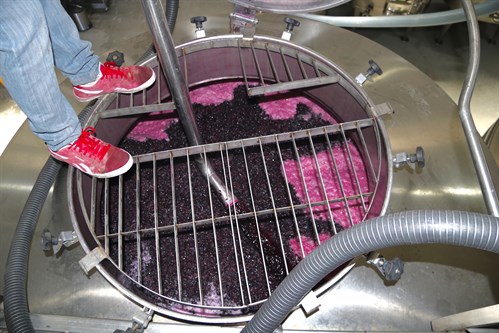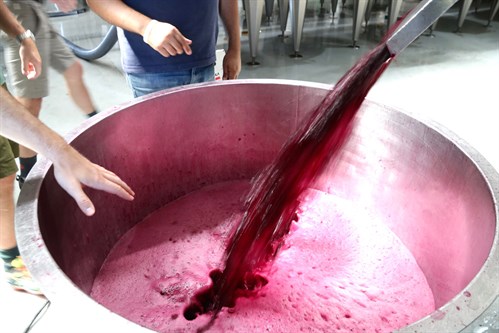 In the adjacent room, we were shown the wooden barrels holding blends from different vineyards on the property, each filled with maturing liquid, one step closer to being ready for consumption.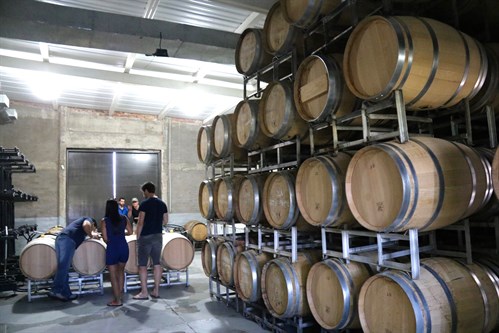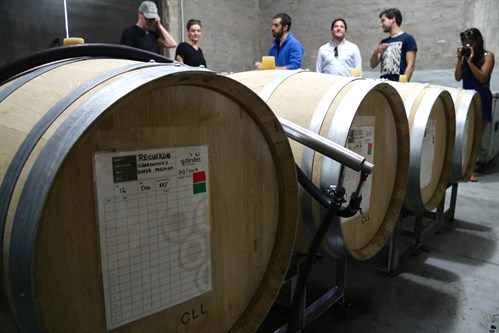 Onward to the back patio, we walked beneath the motto "Nada Es Imposible" painted on the doorway leading to the de-stemming machine and suited up in latex gloves to work on our batch.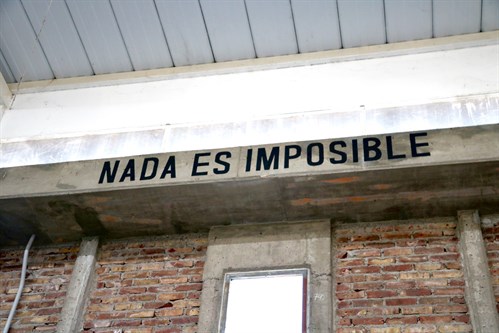 From one end of the conveyer belt, full clusters of grapes made their way through pairs of hands and machinery, diligently picking out stems and any other irregularities.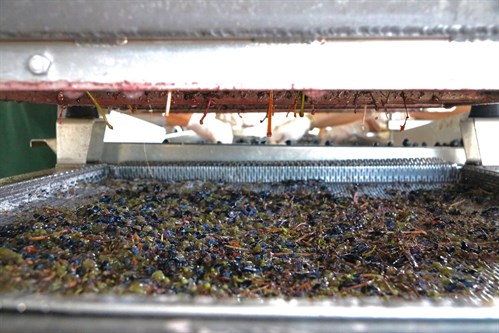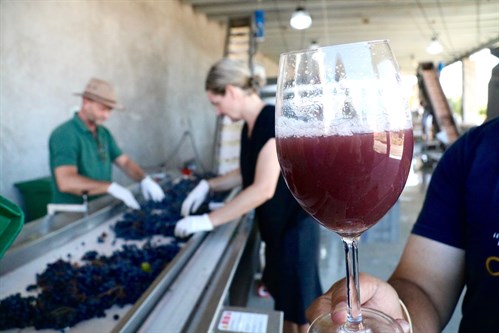 The conveyor belt dropped the grapes in a wooden bucket that would typically be an industrial-sized container. But for this special event, it was the perfect size for each of us to have the opportunity to jump (or delicately step) into for stomping.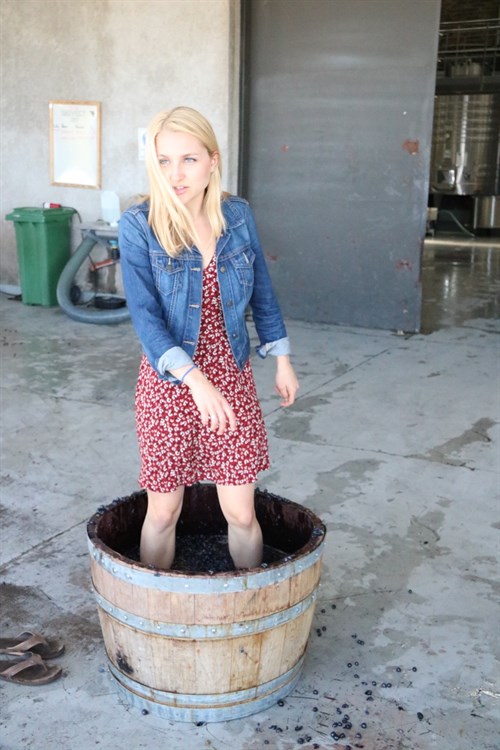 You don't have to know anything about wine, or even be old enough to drink, to be able to appreciate the sensation of freshly picked and crushed grapes oozing between your toes. I opted to let my fellow wine campers go before me. Between the pairs of feet that initially stepped into the bucket to when I went in last, it was remarkable to notice the difference in consistency, how quickly the grapes had turned from solid to liquid. I know stomping on grapes is not how every batch is made, but it's pretty cool to see how efficient a few feet can be!
After rinsing off our sticky feet, we witnessed the spectacular bubbling of dry ice being poured over the liquid-grape concoction.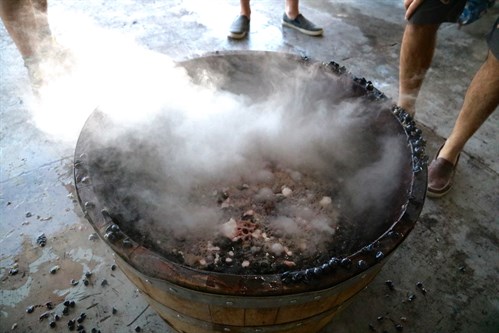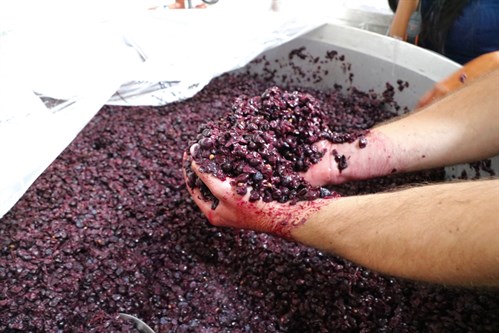 We had one more opportunity to get our hands dirty in the fermenting vats before moving on to the tasting lesson.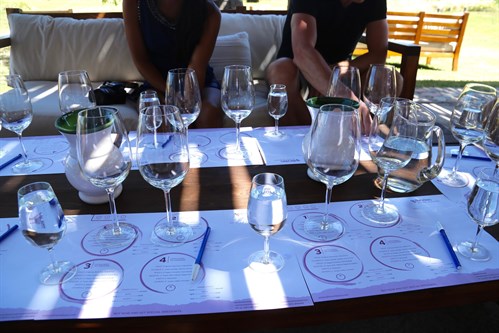 Sitting beneath a wooden canopy, overlooking those Andes, we passed around glasses filled with mystery ingredients and attempted to decipher with our noses what was in them. We were told which flavors to smell for, how they could conjure up memories (for example, nutmeg and cloves were reminiscent for many of Christmas). Finally, two glasses of red were poured before us, and we went around describing what we thought they were. This was the only part of the day where I felt aware of my lack of knowledge: I didn't even attempt to offer an idea of what type of wine it was!
The Wine Camp finished in the best way possible: with a gourmet asado lunch, prepared and brought to us around a long wooden table under the shade of a canopy, nestled between rows and rows of grapes.
Whether you know your way around a winery or simply enjoy a glass of almost anything poured in front of you, the Wine Camp at the Vines of Mendoza should be a mandatory course for any wine drinker. Bryan Driscoll, VP of sales and vineyard partner, said it best:
"Wine Camp is like Disneyland... but with wine."