The 2014 summer season of Winemaker's Night got off to a great start this week with Gimenez Riili family winery visiting the Tasting Room to share their wines with a room full of wine lovers. 
This family winery in the Uco Valley is owned by the Gimenez Riili family who have a long history of producing grapes in Mendoza (60+ years), and began making their own high quality wine a few years ago in this boutique project.
Federico Gimenez Riili came last Wednesday to present his wines and explain a bit about the family history and their unique terroir. With a family of five brothers, they are a large family involved in this project.
The Interview
After the tasting, I sat down with Federico to find out a little bit about his favorite wines and what life is like with 4 brothers...
There are few people making Merlot anymore in Argentina, what are people missing out on?
In the International market you really have to push it, people don't want to know about Merlot. All the New World wines are all concentrated on one varietal per country, so selling an Argentine Merlot is difficult. But our Merlot is very elegant and easy to drink, and it is very expressive for a wine that is young.
What is the best thing about being a family of 5 brothers? 
That we can meet up to eat asado and drink wine!
 And the worst?
That we are all different, but that is a good thing too! Sometimes having differences makes it more interesting.
If you could only drink one of your wines for the rest of your life, what would it be?
How difficult! I think the Gran Malbec… because it isn't a tiring wine, it has good acidity and you can drink it alone too or with food.
What we tasted
Brut Nature
This is a fruity and lightly floral sparkling wine, a pretty party popper with a refreshing finish and a pleasant and fine bubble stream. With only 3 grams of sugar, this sparkling wine has very little liqueur d'expédition added to it making it a wonderfully crisp and dry Brut Nature. Federico recommends it with fish and sushi!
Buenos Hermanos, Merlot 2013
With a blend of vineyards from Maipu and Uco Valley, this Merlot has some of the jammy warmth of Maipu and the concentration from the Uco Valley resulting in a more complex and interesting wine. Federico's favorite pairing with Merlot is a nice red pasta sauce.
Padres Dedicados, Cabernet Franc 2013
Riding on the crest of the new Cabernet Franc wave, this is Gimenez Riili's latest release – a single vineyard Cabernet Franc. Planted in 2007, these younger vines still offer a concentrated wine that has riper Cabernet Franc characteristics with a later harvest in order to pick with sweet tannins and lots of fruit character.
 Gran Familia, Malbec 2012
One of the family's top wines (and hence called Great Family!) this Malbec spends 22 months in barrel and has a full concentration from their deep and stony Uco Valley soils. Coming from older vines, this is a complex wine that deserves a bit of decanting and good company.
You can visit Gimenez Riili winery in the Uco Valley every day of the week. Make a reservation by emailing turismo@gimenezriili.com. Every Wednesday there is a Winemaker's Night in The Vines Tasting Room at 7pm. Next week's winery is Bodega Zorzal. For reservations, email juliette@vinesofmendoza.com.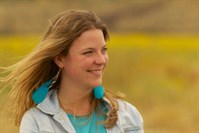 Amanda Barnes is a British wine writer living in Mendoza and enjoying one bottle at a time. If she could only drink one wine for the rest of her life, it might have to be a sparkling. www.amandabarnes.co.uk