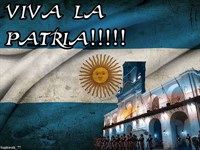 In Mendoza this weekend you'll hear everyone talking about the 25 de Mayo and asking your plans are ... If you have no idea why this date is important, here's the lowdown:
What is 25 de Mayo?
It is a holiday that celebrates one of Argentina's first steps to independence. Although there are a couple independence celebrations (including another popular street name, 9 de Julio), 25 de Mayo signifies the first democratic Argentine government that took power in 1810.
What should you do on 25 de Mayo?
You should enjoy a day with family and friends, and eat locro. Locro is a traditional corn and meat stew that is the most popular dish of the day, being served in most restaurants and family homes. It goes well with rich, full-bodied whites and also fruit-forward reds.
What shouldn't you do on 25 de Mayo?
Work.
Where can you celebrate 25 de Mayo in Mendoza?
While it is mainly a family and friends sort of celebration with lots of homes opening their doors for casual get-togethers, there are also a number of restaurants in the city and wine regions where you can tuck into a good locro and get a bit of the independence spirit. Here are four picks from Uco, Lujan and the city:
In the Uco Valley, Postales De Uco boutique lodge and restaurant offer a tasting menu of locro with empanadas and Malbec-marinaded pears or tortas fritas with dulce de leche.
Postales, Tunuyan, 261 4961888. Francis Mallmann's Siete Fuegos at The Vines Resort & Spa will also be serving locro and empanadas, as well as ribs (costillar) and fire cooked goat. Dessert is a chocolate cake with marscapone and strawberry ice cream. The Vines Resort & Spa, 261-461-3910 or 7fuegos@vinesofmendoza.com. 
In Vistalba near Chacras, Lujan de Cuyo, Entre Cielos restaurant has a special weekend menu with locro, a typical nut and syrup dessert and small meat pies as a starter.
Entre Cielos, Guardia Vieja, Vistalba 261 498 33 77.
Mendoza's city centre will be hosting a peña (traditional dance show and music) at the Hyatt hotel's Grill Q on Sunday midday where you can get a taste of folkloric dance and music as well as a buffet of traditional cuisine and wine included.
Park Hyatt, Chile 1124, 261 441 1200
Feliz 25 de Mayo!

Amanda Barnes is a British journalist living in Mendoza and steadily gaining an appreciation for celebrating any independence date, especially when it involves hearty meals and wine. You can follow her blog at www.amandabarnes.co.uk