This last week I've been down south exploring the gorgeous wilderness of Patagonia, which definitely needs to be on everyone's bucket list. At the same time, I've been exploring the wine lists and cellars of various dining establishments and here are five fabulous wines to try from the south.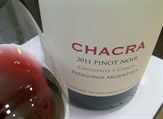 Bodega Chacra, Pinot Noir
This boutique production winery makes a beautifully delicate Pinot Noir with nuanced flavors of cherry and earthy hints. The grapes come from older organic and biodynamic vineyards and the project is the brain child of Italian wine-royalty Piero Incisa della Rocchetta. Either try the Cincuenta y Cinco Pinot (from a 1955 vineyard), or the Trienta y Dos Pinot (yes, you guessed it - from a 1932 vineyard).
Bodega Patritti, Pinot Noir Primogenito
Patagonia is quite rightly the land of Pinot Noir and this Pinot is very nice for good for its appealing price point. Fruity, fresh and bold enough to stand up to yummy Patagonian lamb stone-oven pizza!

Humberto Canale, Old Vineyard Riesling
One of the pioneers of Patagonian winemaking, Humberto Canale make many wines, however this Riesling is a real surprise. Made from older vineyards (from 1937) in Rio Negro is one of the very few single variety Rieslings you'll find in Argentina. Abound with peach and citrus fruits and a nice oily mouth making it a good wine for the many varieties of shellfish you'll find here.
Bodega Fin del Mundo, Tannat FIN
You expect to see Tannat more in Uruguay than Argentina, but this single variety is surprisingly supple for such a characterful grape. Intense and concentrated with 18 months in oak, from the winery at the 'end of the world' (fin del mundo).
Saurus, Deseado Sparkling
With dinosaur fossils discovered in their cellar, Saurus has a story but also has the good wines to back it up. This is a wine for the ladies (or for the men who can pull off pink shirts) as it is a slightly sweet sparkling Torrontes. Perfect for a winter apple crumble by a warm fire!

Amanda Barnes is a British wine journalist living in Mendoza and exploring all the nearby wine regions and iceburgs this side of the equator. You can follow more of her articles on www.amandabarnes.co.uk