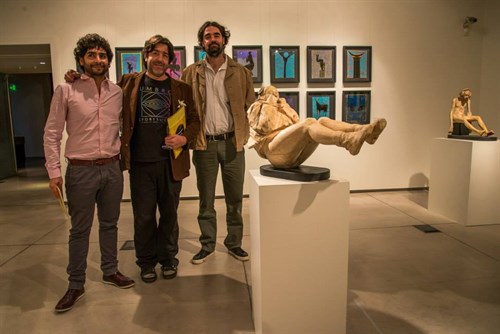 If you haven't been to Killka art gallery in the Uco Valley, you should. It is one of the most beautiful art spaces in Mendoza and probably Argentina. Backed by the effortlessly impressive Andes mountains, this unique gallery is part of Salentein winery. The Dutch owner has a fondness for art and the gallery exhibits his own private collection of classic Dutch art as well as a permanent collection of modern Argentine art. The other exhibition hall is a changing art exhibition of Argentine artists.
From now through the end of July you can see displays by three local artists: Fernando Rosas, Juan Castillo and Osalvo Chiavazza. Fernando Rosas was born with art in his blood having grown up with a renowned sculptor (Roberto Rosas) as a father. He too makes beautiful wood sculptures and also works with paintings, drawings and digital media, often of evocative and intimate scenes of nudity and interaction.
Osvaldo too works in both paint and sculptures and he is also a renowned muralist, and all three of his chosen medias are on show in Killka these coming weeks. Last but not least is Juan Castillo, who is the curator of ECA in Mendoza city centre and also develops his own colourful paintings which are testimony to his great taste and skill in art too.
Catch all three of these celebrated Mendocinean artists at Killka this winter.

Amanda Barnes is a British journalist in Mendoza who has been enjoying the art scene with a glass of Malbec in hand for five years here. You can read her less artistic musings on www.amandabarnes.co.uk