Today, July 9th, bears much historic significance in Argentina. '9 de julio' marks the anniversary of Argentina's formal Declaration of Independence from Spain in 1816. 
The Argentine War of Independence was fought from 1810 to 1818 by Argentine patriotic forces under Manuel Belgrano, José de San Martín and other Argentinians patriots against royalist forces loyal to the Spanish crown. On July 9th, 1816, the Congress gathered in Tucumán and finally issued a formal declaration of independence from Spain.
Now, hundreds of years later, to honor the patriots who gave everything for Argentina's freedom, a group of civil citizens do a historical reenactment in Mendoza. One of these is The Vines' Wine Specialist Cecilia Fernandez Gimeno.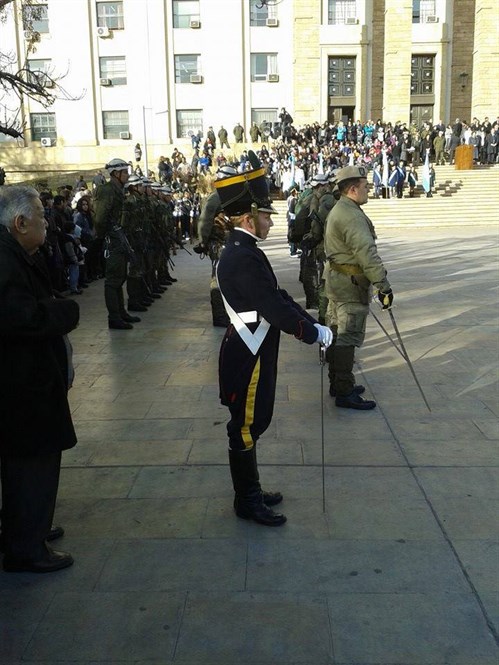 Cecilia participates with a group whose main focus is the military campaigns led by General José de San Martín between 1814 and 1817. Not surprising as San Martin is regarded as the hero of Argentina, Chile, and Peru's independence. The reinactors wear the appropriate period military uniforms and weapons --Cecilia even has a tatoo of him on her leg. 
San Martin was the prime leader of the southern part of South America's successful struggle for independence from the Spanish Empire. He is considered a founding father of Argentina. Legend goes that he refused almost all of the honors and rewards that grateful people tried to give to him, including rank, positions, land and money.  
One of his most famous quotes is: "If there is victory in overcoming the enemy, there is a greater victory when a man overcomes himself".
For these strong values and his successful defeat of the Spanish, San Martin is revered throughout Argentina. The country wants to keep his values alive - and this is why you will see many monuments to him throughout Mendoza and the rest of the country. 
Feliz 9 de Julio!