To kickoff the Winemaker's Night's 2014 season, Patricio Reich, the owner of Renacer winery, came to The Vines Tasting Room in Mendoza city to introduce all six of their wines to the audience of tourists and expats last Wednesday evening.
Patricio has a different story than most coming to make wine in Argentina. Chilean born, Patricio used to have a winery in Chile, which he called a 'factory of wine', making 40 million liters of wine annually. He lost his passion for the job, sold it and devoted himself to other things. After spending some time in Argentina, he fell in love with the "European style of wine production in Argentina", and decided to start a much smaller family project based here and focusing on red wines. Although he couldn't leave his beloved Chilean Sauvignon Blanc to one side and so brought it with him! Renacer make Argentine red wines, and their only white is Chilean. And believe us, Casablanca Sauvignon Blanc tastes great on a hot summer night!
As Patricio expertly switched between English and Spanish, and interacted with the audience, we tasted through the range of Renacer's reds as well:
Punto Final (Classic Malbec), 2012: One of the best value entry level reds in Mendoza, Punto Final's big fruit and smooth mouth is a blend of different vineyards and delivers on flavor, color and aroma.
Punto Final (Classic Cabernet Sauvignon), 2012:As Patricio explained, this wine for him demonstrates the big difference between Argentine Cabernet and Chilean Cabernet. He said that Chilean Cabernet shows more pirasine characteristics (peppery), while this Argentine Cabernet has much rounder, soft fruit, but still with a spicy finish.
Punto Final (Malbec Reserva) 2011: This wine is the natural step up from the classic line: more concentrated and with more impact but a slightly more refined red and dark fruit. Patricio describes this wine as the one that he would open for guests who come to visit.
Renacer, 2009: This blend is their top wine, and so naturally spends the most time in new oak. Tightly wrapped in French oak there are many spices and different layers to unwrap with a strong red fruit base remaining firm underneath. While this can still improve from a few years in the bottle, Patricio said that this is the one he saves for very special family occasions.
Enamore, 2010: This wine was inspired by a family friend, from Verona, Italy. She recommended Renacer doing an Amarone style wine in Argentina. Enamore is a word play on Amarone and this wine is a play on what an Argentine Amarone would be. Made with grapes that are dried in the shade, the concentration of sugar, color and aroma is much greater and that is what makes this attractive blend. A complexity of sweet and dry aromas and a sweet entrance, this is a romantic wine strictly for lovers - a very popular option for Valentine's Day and year round.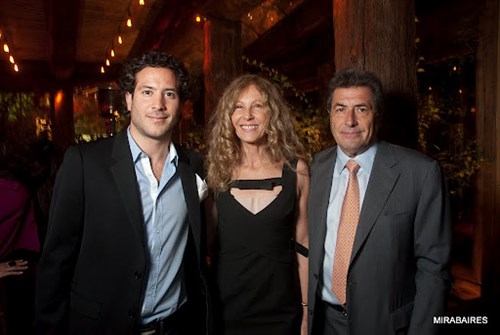 After the tasting, I sat down with Patricio to get the scoop on a Chilean making Argentine wines...
Some people are talking about the growth of Chilean Malbec, what do you think of Chilean Malbec? Will it ever compete with Argentine Malbec?
I think that the terroir makes a difference for the better or the worse... The Malbec in France was a so and so variety that developed very well in Mendoza. The conditions and terroirs in Chile are different to Mendoza and we have to see what happens, but I doubt it.
You said that describing a wine can be very intimidating and that people can talk a lot of hyberbole. Do you have any wine descriptor that you have heard and thought very strange?
No! Or maybe all of them! I am not sure that those descriptions are accurate. We never communicate in terms of tastes but rather if the food is good or bad... I don't have to describe the taste of a cracker, I don't need to! I can say it tastes bad, or great. Therefore it is intimidating to people to describe the wine –it is an unfair question.
Renacer last year hosted some fitness and wine events (with fitness activities followed by wine drinking). What is your own personal philosophy on fitness and wine?
I know the connection between health and wine. That's a famous French paradox. And these days everyone thinks it is a good idea for everyone to have 1 or 2 glasses of red with meals.
Renacer means 're-birth' and I assume in some ways starting a new winery in Argentina was a rebirth for you. With all your experience, would you recommend anyone to open a winery in Argentina?
Argentina is not for the faint of heart!

Amanda Barnes is a British journalist living in Mendoza and her philosophy is that a good glass of wine is not only important for your physical health, but you mental and emotional health.
Photo middle: Patricio with his family -- all of whom work for the winery.