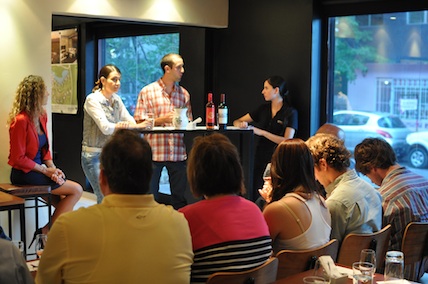 This week's Winemaker's Night was Bodega A16 who came to present two of their wines, a Malbec Rose and a Malbec. Winemaker Juan Pablo Arenas came to present the wines, along with their consultant winemaker Gabriela Celeste from EnoRolland. The small production wines are made in Lujan de Cuyo.
Wines we Tasted...
Auge 2013, Malbec Rose
A light, pink-ish onion skin color, this rose had very delicate aromas of red fruit and a dry finish with some structure that made it a nice wine that would pair well with light summer dishes.
Apogeo, Malbec 2011
This is a dark wine with lots of color concentration and shows a lot of dark fruits in the nose and mouth, as well as a bit of spice rolling in from aging in oak barrels. The very easy entrance makes it a wine that you can quite happily sip alone although it would also stand up to a good pasta dish or light flavored meats.
Interview with Juan Pablo...
You are a small project, what are the benefits of making a boutique production?
The control of the process! In each stage of winemaking from the harvest to bottling, you can see and touch everything that you are going to give to the consumer. We are working for them, the consumers!
Tonight you presented a rose Malbec. Rose could be considered a much less common wine to find in Argentina, why did you make a rose and what do you like about rose?
What we try to do with such a small winery is to present different products that show different characteristics to the consumers.
When is the best moment to drink a rose?
When you are happy! And when you have good company.
Tell me about the name A16…
My boss named it A16 because it was his 16th project!

Amanda Barnes is a British journalist living in Mendoza who thinks the best moment to drink rose is with a thai chicken salad with plenty of coriander (or cilantro).