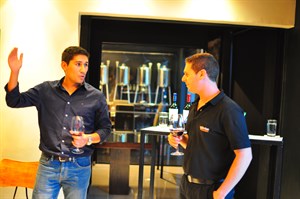 Last week Gaston Sepùlveda, winemaker from Flecha de los Andes, was our special guest for Winemaker's Night. Flecha is part of the Clos de los Siete winery project in Vista Flores owned by French dynasty Rothschild. They make only red wines and mainly blends.
Even though Gaston explained that their single varieties are showing wonderfully in the barrel, the owners want to focus mainly blends and expressing the best that Vista Flores can offer.
The wines we tried
Punta de Flecha, Malbec 2012
This is the first step on the ladder of their wines and it shows the classic Flecha style: good color and fruit concentration but with a lighter feel to it that the others because of a shorter maceration period. There is a bit of oak influence, but it's a lighter Malbec that is an easy-drinking bottle.
Punta de Flecha, Blend, 2010
This newly released blend has Malbec, Cabernet Sauvignon, Merlot and Petit Verdot. It is a classic Bordeaux blend that slots in just after the Punta de Flecha single variety Malbec but there is more of an oak presence which is much more noticeable in the mouth and has a bit of a bite and lots of fruit even for its slightly older age.
Gran Malbec, 2011
With more structure, more concentration and more new French oak – this is obviously a bigger wine. One of the original wines made by the winery, this has always been their top single variety Malbec and continues to be. A little bit spicier and certainly deserving a good plate of steak by its side!
Gran Corte, 2010
A bold blend but with much more complexity from the many different Bordeaux varieties that come to play in this wine. A rich color and a rich aroma with some structure behind it from oak aging in French barrels. This is the winery's top expression of their vineyards and winemaking team, and you can tell.
The interview
How is the harvest going this year?
We only make red wines so we have not been affected by the rain so far, but it has delayed our harvest dates by a week. Last year we produced one of the best Merlots we have ever made in Flecha --this year will be much harder.
What's interesting about working in the Clos project?
It's interesting for making very high quality wines and you learn to make wines of top quality and working with people recognized around the world for their winemaking experience. Working with Michel Rolland and all the experienced winemaking teams is great.
Do you notice many differences working with French owners?
French people are a bit more structured and everything has to be in line, and this is the philosophy that they work in. The majority of people in Flecha have always done a couple harvests in France. I worked the 2007 and 2008 harvests in France also to know their philosophy and how they work. 
What is your personal preference – blends or single varietals?
Blends. Because in a blend you can play with different components and achieve something complex and you can have a more interesting wine. We have a lot of red varieties to work with too.
Flecha means arrowhead (inspired from the native Indians). Do you have any ancient items that you have collected?
No. I am not the type of person to save old things, I like to bring in new things in and change the energy!
If you could drink one wine for the rest of your life, what would it be?
That's very difficult. I don't think I could just drink one! There are many that I love! I love Burgundy Pinot Noirs, Argentine Malbec… it's too difficult. I can't pick just one!

Amanda Barnes is a British journalist living in Mendoza. She used to collect rubbings from different colored erasers.