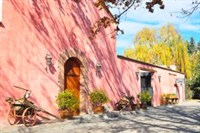 Clos de Chacras has to be one of the prettiest wineries in Mendoza, and now it may just be one of the more interesting ones to visit for an indulgent winery lunch too!
A historic building from the late 19th century, the beautiful pink facade welcomes you in to a glimpse into winemaking history in Mendoza with enormous concrete pools that are bigger than most apartments, and are now used to store aging wine in bottles. A stroll around the winery gives you a good insight into winemaking from the past and present and is a great way to start your experience before moving into the beautiful restaurant or out on the sunny deck by the fish-filled pond where you can combine winetasting with their fabulously different menu.
While every winery offers something a bit different in terms of wine tasting and their menu, most focus heavily on steak and empanadas. Both are, of course, at the heart of Argentine cuisine, but this can become a bit humdrum for regular visitors, or winery lunch addicts like myself.
Clos de Chacras - despite its traditional appearance - has broken that rule. Its new tasting menu has no steak and no empanadas. And wait, they pair prawns with red wine! Now chew on that for a while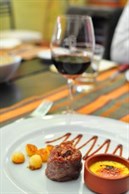 The six course menu is adventurous, fun and playful. It will make your belly smile, and your mind ponder, as you work your way through different courses paired with their wines. Take for example the aforementioned prawns: a mild prawn curry with grilled polenta and a smooth blend of Malbec, Merlot and Cabernet Sauvignon. This daring pairing is a delight for the senses as the plate arrives steaming like a sizzling aroma bomb and the juicy, fruity wine lifts some of the nuances of the dish. Fun!
Another playful concept is their garlic creme brulee, served with a smokey roll of chivito and sweet and sticky BBQ sauce. Pair this with a spicy Cabernet Sauvignon and you have sweet, spice, smoke and smooth all rolled into one palate pleaser.

The best pairing of all for me was the refreshing and rich lamb, pea and mint pie with their icon wine, the Gran Estirpe Malbec which gave you a bold, earthy and fresh mix that bends your mind a little but definitely works. Beautiful to look at and even better to taste!
If visiting a winery and stuffing yourself silly wasn't fun enough, then make way for Clos de Chacras. While every course and pairing won't be to everyone's taste, that isn't the point - they are daring to be different and invite you to play along with them and put together new flavour combos that will sometimes work, and sometimes won't, but some of them will become your new favourite flavor combos! Round of applause for Clos de Chacras.

Amanda Barnes is a British wine writer living in Mendoza and after half a decade in Mendoza she is always overly excited to find new places doing something a little different. It gives her hope that one day she can break her empanada addiction. www.amandabarnes.co.uk